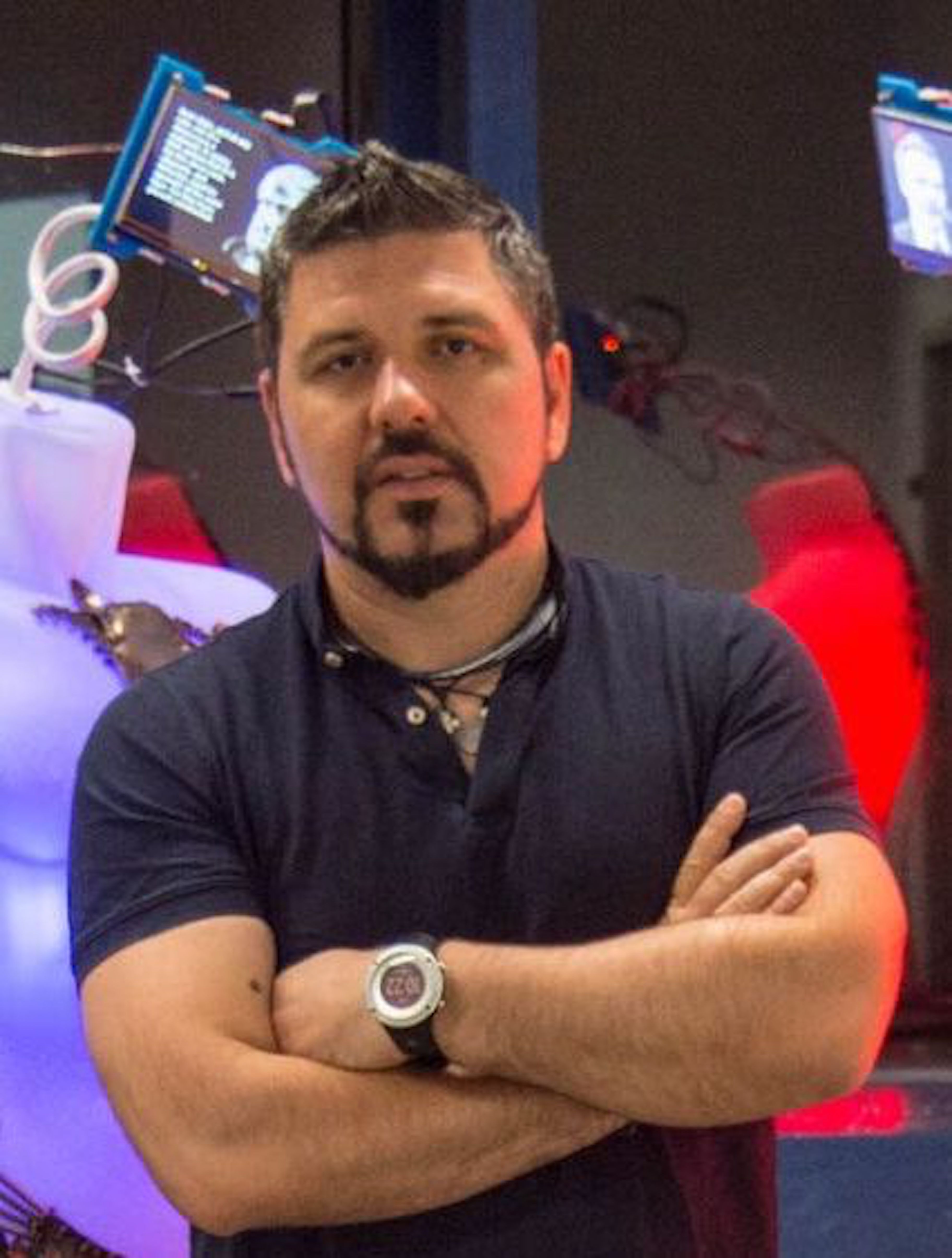 Predrag K. Nikolic
Associate Professor, Cheung Kong School of Art and Design, Shantou University, China
Biography
Predrag K. Nikolic is Associate Professor at Cheung Kong School of Art and Design, Shantou University, in China. He is an interactive media designer, international digital media expert and a media artist who holds a PhD in Digital Media and an MBA. His research focuses on intelligent interfaces, robot creativity, AI aesthetics, machine-made content, design for behavioural changes and smart living environments. He mixes experiential reality, artificial intelligence, and responsive environments to engage an audience in new types of interactive experiences and media perceptions. His design and artworks, such as MIndCatcher, InnerBody, Ciklosol, Before & Beyond, Vroom, Robosophy Philosophy, Digital Lolipop, Botorikko were exhibited worldwide and presented at the Ars Electronica, SIGGRAPH, SIGGRAPH Asia, Technarte, Singapore Science Center, Hong Kong – Shenzhen Design Biennial, Maison Shanghai, etc.
Before joining Shantou University, professor Nikolic was Dean of the Faculty of Digital Production in Novi Sad, Visiting Professor at Bergen Academy of Art and Design Norway, Researcher at Aalto University Finland, Global Digital Director at Grey Worldwide, Global Digital Director at J. Walter Thomson Worldwide, Global Head of Digital at Ogilvy Greece, Head of Digital Marketing at Groundlink New York, Consultant at Yahoo and Managing Director at JadePremier London.
Predrag K. Nikolic has published numerous research papers in the field of artificial intelligence aesthetics, machine-made content, design for behaviour change, collective creativity, mix-experiential reality, multi-sensory interfaces in smart living environments, interactivity and interface design. He lectures at universities, international conferences, symposium and serves on many conferences committees.
TITLE
Intelligent Playful Environments in New Urban Social Landscape
Smart City concept tends to improve quality of life by using digital technology and efficient consumption of resources. However, many other aspects related to the quality of citizen's needs, such as social, entertaining and fun, which are beyond the efficiency are neglected as for the healthy and happy life of smart cities inhabitants. Beside sensor technologies, public surfaces, and spaces to enrich aesthetic and fictional dimensions of the urban environments, using artificial intelligence can significantly change the way people are interacting with their living environment and communicating within a social community. Future cities enhanced with recent AI technology development can offer symbiosis between sensory enriched physical experience, augmented with virtual and artificially intelligence generated content. This can lead to conceptualization of a unique creative playground featuring a new category of pseudo-sensory experience capable of involving the audience in a novel playful ecosystem and social experience in an urban space. In the project Syntropic Counterpoints, we are using discussions between artificial intelligence clones to generate creative content. Nevertheless, our focus is less on content analysis and more on the beauty of creation itself and given context by the machines. We are employing a different recurrent neural network (RNN), and collective creativity approaches to support interactions between artificial intelligence clones and trigger a humanless creative process which should lead to unsupervised AI creativity. Throughout this robot-robot interaction model, we are trying to investigate the possibilities of using artificial intelligence in context-based creative processes as well as to raise questions related to potential future phenomena of machine mindfulness and how that can reflect on citizens happiness in a new AI augmented urban social landscape.
All sessions by Predrag K. Nikolic